We would like to introduce the newest members of the IG team:
Colette Townsend
Colette has recently joined us as a Customer Success Advisor. She enjoys spending time outdoors and travelling.

James Gauden
James is a Senior Support Engineer and enjoys playing golf, cricket and going to the horse racing.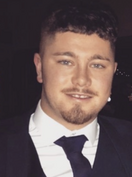 Paul Wilkes
Paul is a Customer Support Engineer who's favourite place is South Africa or Fiji. He loves going to the cinema, playing rugby and cricket, and once rugby tackled prince Harry!