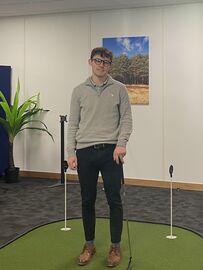 Evan is in his third year studying at Nottingham Trent University, currently completing his work placement at intelligentgolf before returning to his studies next summer to finish off his degree. We asked Evan a few questions to get to know a bit more about one of our newest colleagues!
What do you hope you will get out of your placement with intelligentgolf?
From this placement I want to expand my capabilities as a designer so that later I have a wider skill set. Working in the Implementation team I get to deal with the backend of websites, this means I am often working on the coding. Although it is not my my main focus in design it is certainly an aspect that will help me later in life.
What is your day-to-day role at IG?
On a regular day, I am working with the Implementation team to help build websites. This often extends to customer site content training, which I have been doing since my 6th week. When I am adding the content to the websites, there is often a lot of interaction with the club to ensure that we are formatting the content in the best way possible. On occasion, the club hasn't been sure on what they wanted so I would have to create what I think is best for the club. Another part of my role at IG is to set up the new sites so that they are ready for the customers to start their training. Here I can add in a little bit of individuality to each site through colour schemes and small layout changes.
What do you enjoy doing in your spare time?
In my spare time I enjoy playing hockey at Stourport Hockey Club and the occasional round of golf. Next year I will be looking to get a membership at a local golf club so that I can play more often. In between work, gym and sport there isn't much time for anything else!
What is the plan after you graduate from University?
After I have graduated, I will either look to do a masters in a specific area of design, possibly towards the sport side of design, or I will look to become an intern/ junior designer at a design consultancy. This would allow me to work on a broad range of projects where any of the skills that I have learnt over the past few years could be needed.
Evan has been a great addition to the IG team and has adapted very well to the world of golf. He is already hosting calls and training sessions with some of our newer clubs. We look forward to supporting him throughout the year and we are sure some of our customers will virtually meet Evan in the upcoming months.